Jc Scott Chasez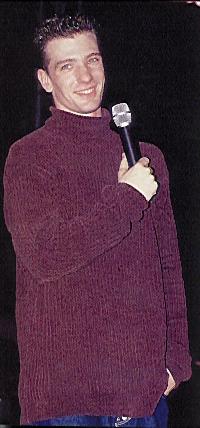 Full Name: Joshua Scott Chasez
Birthdate: August 8, 1976
Place of birth: Washington D.C.
Eyes: blue
Hair: Brown
Nicknamed: The Serious One, Mr. Sleepy
Musical Favorites: Billie Holiday and Stevie Wonder
Hobbies: Playing football, sleeping, writing and composing songs
Favorite food: Chinese
Favorite Sports Team: Washington Redskins
Favorite music: R&B, Soul
Favorite *NSYNC song: Tearin' Up My Heart
Favorite Animal: Dogs
Scared of: Needles
Car: Jeep
Favorite girl: Naomi Campbell (because she's got a clear look and great lips)
Favorite actor: Harrison Ford
Underwear: Tommy Hilfiger
Collects: Hard Rock cafe menus
Star Sign: Leo
Parents: dad - Roy and mom - Karen
Siblings: Sister Heather (20 years old) and Brother Tyler (17 years old)
Favorite Films: Stars Wars Triligy, Indianna Jones Chronicles
Previous Credits: Hosted The Mickey Mouse Club for four years
Lives: In Orlando, in a house he shares with bandmates Chris and Justin, as well as Justin's mom
Here's an interview with JC taken from *NSync's Official Page:
What advice would you give someone starting a music career? "Don't be afraid to ask for help."
What other artists inspired you? "Sting, Seal, Stevie Wonder, and a million more. "
What makes you blush? "I don't know but it would take a lot."
What are your personal and professional goals? "To be a part of something that I can be proud of."
Do you have a pet? "No."
If you could change anything about yourself what would it be? "I'm very stubborn."
Would you pierce your nose? "No."
If you had one wish granted to you what would it be? "To live a long and happy life."
Finish this sentence. I cannot get enough of....."Sleep."
What do you collect? "Hard Rock Cafe menu's."
What is the most daring thing you have ever done? "Jumped off a two story building."
What is the secret to your success? "Dedication, persistence, and hard work."
What will you be doing in 10 years? "Hopefully music!"
What is your favorite piece of clothing to wear? "My leather jacket."
If you had to choose between love, money and fame, which would you choose? "Love. Everything else is OK though."
How do you know if a song is going to be a hit? "You just feel it."
What do you miss the most when you are on the road? "My own bed."
What do you do if you get a sore throat and have to perform? "Gargle salt water and drink warm tea."
Are you superstitious? "A little bit."
What is your favorite way to celebrate your birthday? "With family and friends."
What is a common misconception about you? "I don't know, I'm pretty up front."
What is your greatest fear? "I hate needles!"
What is your most disgusting habit? "I chew my nails."
What is the biggest mistake you have made? "Walked on a floor that had just been finished."
What is your favorite holiday? "Christmas."