Joseph Anthony Fatone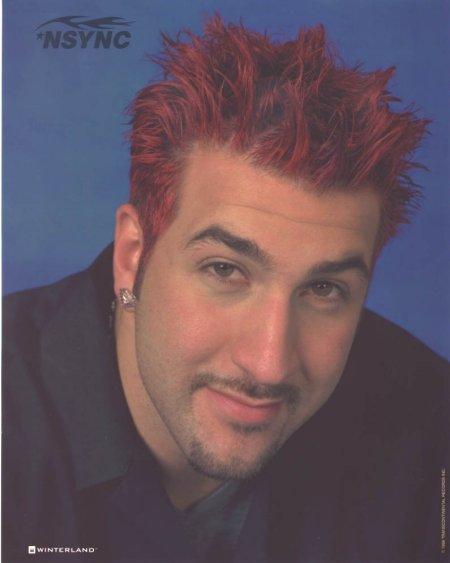 Full Name: Joseph Anthony Fatone Jr.
Nicknames: Funny Bone, fat one (because of his last name), Mr. Flirt (because he flirts a lot)
Birthdate: January 28, 1977
Birthplace: Brooklyn, New York
Living in: Orlando Florida
Parents: mom Phyllis and dad Joseph
Siblings: An older sister, Janine (2 years old) and an older brother, Steve (24 years old)
Star Sign: Aquarius
Hobbies: Dancing, going to the movies, singing, and flirting
Favorite Girl: Demi Moore
Before *NSYNC: He was working in Beetlejuice Graveyard Revue Favorite Word: Burrrt!! (he says it loud!)
Favorite Bands: The Temptations, Supremes, Boyz II Men
Underwear: Fruit Of The Loom
Favorite sports: Apart from skating and dancing, he says he's useless at sports!!
Important movies he has acted in: Once Upon A Time In America (when he was 4 years old) and Matinee
Dislikes: Steak Tatter and ignorant people
What makes him laugh?: The movie "A Fish Called Wanda"
Best Quality: His optimism
Star Sign: Aquarius
Hair color: Brown
Eye Color: Brown
Here's an interview with Joey taken from *NSync's Official page:
What advice would you give someone starting a music career? "Never give up!"
What other artists inspired you? "Frankie Lynn, the Teenagers (doowop Groups), and Boyz II Men."
What makes you blush? "Being flattered."
What are your personal and professional goals? "To own a house and to be remembered in music."
Do you have a pet? "No."
If you could change anything about yourself what would it be? "My big feet."
Would you pierce your nose? "No."
If you had one wish granted to you what would it be? "More wishes."
Finish this sentence. I cannot get enough of....."Going to clubs"
What do you collect? "Superman stuff."
What is the secret to your success? "Friendship."
What will you be doing in 10 years? "Still singing "
What is your favorite piece of clothing to wear? "Superman hockey jersey"
If you had to choose between love, money and fame, which would you choose? "LOVE!"
How do you know if a song is going to be a hit? "Just the people's response."
What do you miss the most when you are on the road? "Family."
What do you do if you get a sore throat and have to perform? "Take care of it."
Are you superstitious? "Not really."
What is your favorite way to celebrate your birthday? "With friends."
What is your most disgusting habit? "Biting my nails."
What is your favorite holiday? "Christmas."