Justin Randall Timberlake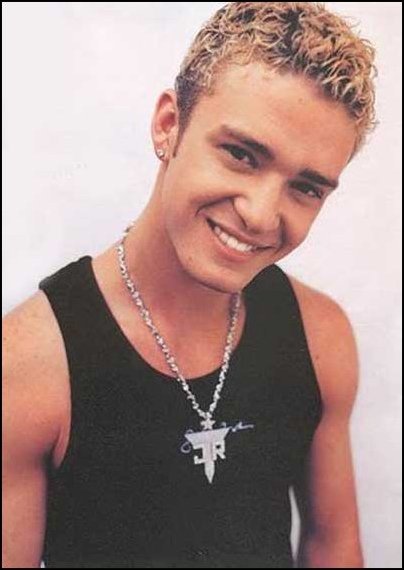 Full Name: Justin Randall Timberlake
Date Of Birth: January 31, 1981
Time Of Birth: 6:30 pm
Birthplace: Memphis, Tenneessee
Height: 6'0"
Weight: 160 lbs/73 kgs
Shoe Size: 13
Religion: Christian
Nicknames: Curly, Bounce, Mr. Smooth, Baby, Curly Spice and Shot
Parents: Justin's biological parents are Randall and Lynn. His step-parents are Lisa and Paul
Siblings: Half-brother, Jonathan, half-brother, Steven,
Lives With: His Mom, JC and Chris
Friends: Besides the members of *NSync, Justin's friends also include Jimmy and Trace
Pets: Ozzie, a Cairn Terrier; and Alley, a cat
Describes Himself As: Charismatic. Justin also describes himself as "goofy, but in a good way"
*NSync Song That Describes Him Best: "I Need Love"
Before *NSync: Justin appeared on Mickey Mouse Club for two seasons, and he was also on Star Search as a child
As A Child: When Justin was younger, he would always put a dab of peanut butter on his nose and have his dog lick it off! He admitted doing this on a radio station in Cleveland.
School Status: Justin has received his high school diploma, and was able to graduate early because of his straight A marks.
Car: 1998 Red Mercedes Benz
Piercings: One earring in his right ear, and two in his left (one is in his cartilage).
Tattoos: After going platinum in Canada, the guys had the *NSync flame put onto their ankle, except for JC.
A Quotable Quote: "I'm a real party animal - when the others let me go to parties!"
Biggest Musical Influence: Stevie Wonder .
Role Models: Father, Michael Jordan andBrian McKnight.
Hero: Captain America.
Most Prized Possesion: His voice.
Justin On Girls: ''Pretty is cool but it's not really about looks for me, it's more about personality. I like a girl with a good sense of humour, who's humble and sensitive.''
Ideal Date: Dinner and then a party.
Romance: When he was about 14 he made his girlfriend a picnic. She was in the shower when he arrived, but her grandmother let him in so when the girl came out of the shower there was this picnic all laid out in her bedroom! Justin says, "She was so shocked she couldn't say anything for about 5 minutes. All I could do was sit there grinning!"
Turn Offs: Girls who smoke and girls with mood swings .
Justin In The Morning: According to JC, Justin is pretty cranky in the morning and won't talk to anybody until he's had his cereal!
Getting Ready: It takes Justin 7-8 minutes to take a shower, and 10-15 minutes to do his hair.
During A Concert: Justin likes it when during a concert he sees the fans singing the words with him.
Behind The Scenes: During the filming for the music video, "For The Girl Who has Everything", Justin fell off his horse, and broke his arm. Slip And Slide: During an outdoors show, somebody had poured water on the stage, and without noticing the stage was wet, Justin slid all the way to the other end. His hand buckled, and he broke his thumb. His cast was blue.Disgusting Habits: Burping and constantly clearing his throat
Sleep: Location isn't a problem for this guy when it comes to finding a place to snooze; "Me and one of my security guards joke because I can pretty much sleep anywhere" says Justin. However, he is definitely not a heavy sleeper; "If somebody were to come up and stand over me or something, I'd wake up!" So what about talking in his sleep? "I talk in my sleep a lot!" Justin admits.
Collects: North Carolina Basketball Gear. Justin also likes to collect shoes
Can't Get Enough Of: Music
Craziest Thing Ever Done: Bungee Jumping
Biggest Mistake: Lying to his Mom
Biggest Fear: To die "unloved"
Confesses That: "I'm a perfectionist. I will record a song and then I'll back later and listen to it and I'll go, 'I really don't like this. I could have done better.'"
What He Would Change About Himself If He Could: If he could change anything about himself, Justin says it would be his patience and procrastination.
Favourite *NSync Song: 'God Must Have Spent A Little More Time On You'
Favourite Singer: Brian McKnight
Favourite Actor: Brad Pitt
Favourite Actress: Sandra Bullock
Favourite Food: Cereal, especially Apple Jacks. He also likes Cap'n Crunch too.
Favorite Drink: Milk
Favourite Ice Cream: Chocolate Chip Favourite Candy: Mentos
Favourite Underwear: White Tommy Hilfigers
Favourite Brand Name Of Clothing: Nike
Favourite Vacation Spot: Hawaii
Favourite Holiday: Christmas
Favourite Musical Instrument: The guitar
Favourite TV Shows: 'South Park' and 'Seinfeld'
Favourite Sport: Justin absolutely loves basketball; "I love basketball and whenever I've the chance I play like crazy."
Favourite NBA Team: Orlando Magic
Favourite Basketball Player: Penny Hardaway
Favourite Author: John Grisham
Favourite Animal: Dog
Favourite Word: Crunk (it means crazy)
Favourite English Word: When in the UK, Justin loves saying the word, "Fab"; "That's my England word!"
Favourite Colour: Baby Blue
Favourite Movie: Scream
Likes: Jennifer Aniston and Tyra Banks; "She's beautiful, what else can I say?" Justin also enjoys watching the Orlando Magic, dancing and shopping.
Dislikes: "I hate snakes, fake people and my curly hair!".